If we start listing down all the cmdline audio players available for Linux, the list would be huge. We selected a few lightweight but powerful such players which should be a delight for any terminal junkie. Try them out!
1. MOC (Music On Console)
Features
Midnight Commander like menu driven interface
Playlist play and save support
Press q to detach from running terminal (no pause) and reattach later
Smooth experience at is buffers the stream in a separate thread
Gapless playback by pre-fetching next file
Internet stream (Icecast, Shoutcast) support
Supports MP3, Ogg Vorbis, FLAC, Musepack, Speex, WAVE, AAC, MIDI, MP4, Opus, WMA, APE, AC3, DTS…
Customizable key mapping
Mixer (both software and hardware) and simple equalizer
Colour themes
Search playlist or a directory
Configurable title creation from filenames and file tags
OSS, ALSA, JACK and SNDIO output
To install on Ubuntu, run:
$ sudo apt-get install moc
2. cmus (C* Music Player)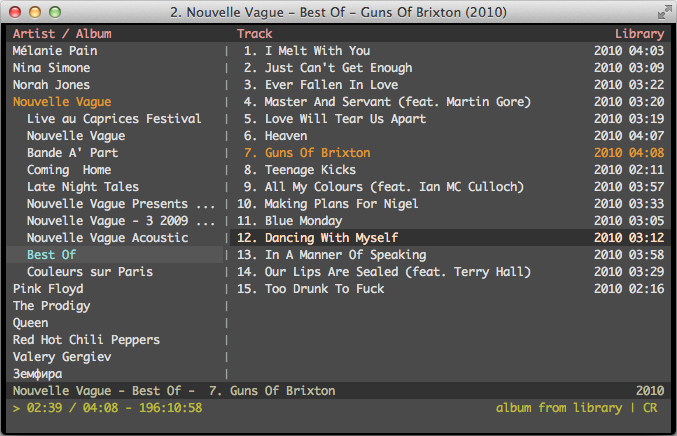 Features
Supports Ogg Vorbis, MP3, FLAC, Opus, Musepack, WavPack, WAV, AAC, MP4, audio CD, WMA…
Outputs: PulseAudio, ALSA, OSS, JACK, RoarAudio, libao, aRts, Sun, and WaveOut
Gapless playback
ReplayGain support
MP3 and Ogg streaming (SHOUTcast/Icecast)
Play queue
Optional playback resume on startup
Instant startup, even with thousands of tracks
Powerful playlist filters / live filtering
Easy to use directory browser
Customizable colours
Dynamic keybindings
Vi / less style search mode
Vi style command mode with tab completion
To install on Ubuntu, run:
$ sudo apt-get install cmus
3. mplayer (or mplaye2 or mpv)
mplayer has a nice GUI and third-party front-ends like SMPlayer. However, you can play any file from the cmdline using any of these. What's more, they can even play streaming radio stations if you provide the URI. Run:
To install on Ubuntu, run:
$ sudo apt-get install mplayer
OR
$ sudo apt-get install mplayer2
OR
$ sudo apt-get install mpv
To play a station use the -playlist option:
$ mplayer -playlist http://minnesota.publicradio.org/tools/play/streams/classical.pls
MP3-only players
4. mp3blaster
Plays only mp3s. Has playlist support and cd-style buttons like play, stop, pause, next track, etc.
To install on Ubuntu:
$ sudo apt-get install mp3blaster
5. mpg123
Plays only mp3s as the name suggests. It's a true console application without any player-like structure.
To install on Ubuntu:
$ sudo apt-get install mpg123
Do let us know which one is your favourite!